NOW PLAYING WHITE CHRISTMAS
---

---
HERE EVERY CHILD MAY VISIT ME OR MRS. CLAUS. YOU MAY WRITE TO US AND RECEIVE A PERSONAL LETTER BACK. AND YES TEACHERS YOU MAY LET EACH AND EVERY CHILD IN YOUR CLASS WRITE THEIR OWN INDIVIDUAL LETTER. IN FACT CLASS TRIPS ARE MORE THAN WELCOME!! NEW FEATURES AND PLACES TO GO WILL BE ADDED AS FAST AS MY ELVES AND I CAN CREATE THEM. WHY WE ARE EVEN WORKING WITH THE EASTER BUNNY AND THE TOOTH FAIRY TO HELP THEM HAVE A WEB PAGE. BE SURE TO REGISTER YOUR E-MAIL ADDRESS NEAR THE BOTTOM OF THIS PAGE SO THAT YOU DON'T MISS ANY OF THESE FEATURES AS THEY GET ADDED! COME BACK OFTEN AS IT GETS RATHER COLD AND LONELY UP HERE FOR ME AND THE MRS. NOW GO AND HAVE FUN!!!!!
---

---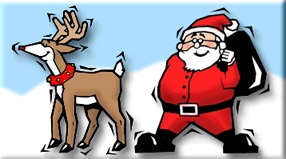 WHY ARE SANTA AND HIS REINDEER SHIVERING? LET'S SEE WHAT THE WEATHER IS LIKE IN THE NORTH POLE. JUST CLICK ON SANTA.
---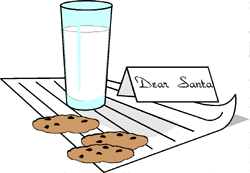 WRITE TO SANTA!
---

---

SANTA HAS BEEN TRYING TO CATCH ONE OF HIS REINDEER TO GIVE HIM A HUG. CLICK ON THE CARROT TO HELP SANTA!
---

---

---
TO FIND MORE GREAT PLACES TO VISIT CHECK OUT YAHOOLIGANS!
---

---
SINCE JANUARY 1, 1997
NICE CHILDREN HAVE VISITED
---
THIS PAGE LAST UPDATED DECEMBER 24, 1997
---

COOL STUFF FROM THE GUY WHO HELPED CREATE THIS PAGE
---